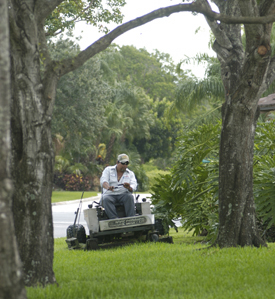 Comprehensive Landscape and Pest Control Services
At Phoenix Landscape Services., we're much more than a maintenance company. Since 1978, we have been installing beautiful landscapes, and maintaining them, throughout Palm Beach and Martin Counties.
We do it all. Landscape installations and enhancements. Tropical and oriental gardens. Irrigation installation and maintenance. Home, shrub and lawn pest control. Lake and pond management. Tree and palm inoculation. Dependable landscape maintenance. Complete landscape fertilization.
As a full-service company, we have provided hundreds of residential communities and commercial campuses in South Florida with a complete, integrated package of landscape development and care. Our professional team integrates all aspects of your maintenance program and budget to achieve a beautiful and affordable result, season after season, year after year.
Industry Professionals
Being a complete landscape company, we have in-house ecological and horticulture expertise and the necessary equipment to handle any project.
We take great pride in completing projects on time and within budget. Our trained and experienced English-speaking, uniformed foreman and crews are friendly, efficient and extraordinarily capable. With scientific backgrounds in Soil Chemistry, Plant Pathology and Entomology, we can protect and preserve your landscape investment with our specialized training and knowledge.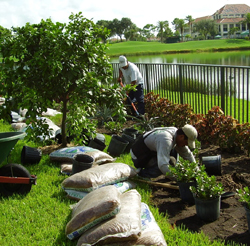 Phoenix Landscape: Rising Above Expectations
Whether you are a management company, homeowner's association or the developer of a commercial or residential property in need of quality services, the experienced professionals at Phoenix Landscape are available to assist you. Why contract with separate companies for landscape installation, maintenance, irrigation, lake management and comprehensive pest control? Since Phoenix Landscape can provide all of these services, our customers have the advantage of dealing with only one company and further benefit with cost savings as a result of our comprehensive approach.
Situated in a 3.5-acre facility in Riviera Beach, we have the equipment and manpower to handle any job, of any size, and for any duration. All of our work is guaranteed to meet or exceed the highest industry standards.